Posted:
Friday, October 10, 2014
The arrests of three Philadelphia men in the theft of $2,000 worth of merchandise from a retail drug store warehouse uncovered the supplier for an illegal store operating out of a Philadelphia home, police said.
Falls police believe that Miguel Ortiz, 43, Juan Agosto, 36, and Edwin Burgos, 41, have stolen at least $50,000 worth of merchandise from Rite Aid. The items were allegedly used to stock a store run by Agosto out of his basement.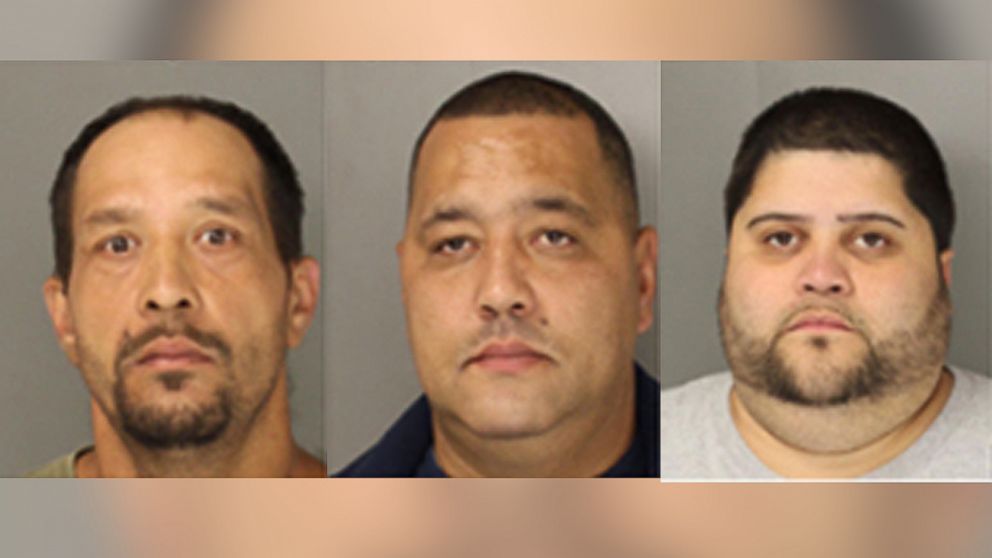 Edwin Burgos, Miguel Ortiz, Juan Agosto
So elaborate was the "convenience" store on North 7th Street that Falls Lt. Hank Ward said there were "more surveillance cameras than Rite Aid has."
"They checked everybody who walked through the door. The house was fortified and they were worried about getting robbed. They were selling the items for pennies on the dollar," Ward said.
The men were arrested Thursday after transferring about $2,000 worth of stolen items, including soaps, cleaning supplies, makeup and paper products, out of a company tractor-trailer driven by Ortiz and into a green Dodge pickup truck driven by Agosto and Burgos, according to a probable cause affidavit.
Ward credited a witness who saw something suspicious outside the Rite Aid warehouse on Canal Road at 2:50 a.m. Thursday.
"The witness called police and we followed it up immediately. Our officers found Agosto inside a green Dodge pickup truck," Ward said.
The police investigation started after a Rite Aid loss prevention manager said she received a tip a week earlier that a company tractor-trailer was meeting a second vehicle in a warehouse parking lot in the 200 block of Canal Road, which is near the Rite Aid warehouse on Geoffrey Road. While no transaction was observed, the manager suspected that stolen property was being exchanged, according to a probable cause affidavit.
The manager identified Ortiz as the tractor-trailer driver with the use of a company-installed GPS system in the truck and then set up surveillance, court documents said. Shortly after 2 a.m. Thursday, Ortiz's truck entered the parking lot followed by the Dodge pickup, the records show.
When the pickup entered the parking lot, its bed was empty, the manager told police. While no transaction was observed, the pickup left the parking lot filled with Rite Aid storage totes.
A Falls police officer stopped the pickup and found Rite Aid storage totes in the truck's bed and additional merchandise in the backseat, police said. Agosto and Burgos were taken into custody. Ortiz was taken into custody at the Rite Aid warehouse.
Agosto claimed he met Ortiz a month earlier in his neighborhood and purchased numerous products from Ortiz's vehicle, according to the affidavit. The men exchanged phone numbers and Ortiz told Agosto if he wanted Rite Aid items he should come up with more money and he'd get him what he wanted, court documents allege.
Agosto claims he called Ortiz on Wednesday night with a $400 order for diapers, wipes, shavers, body wash, cleaning supplies and other items, the records show. Around 2 a.m. Thursday, Ortiz allegedly called and set up the meeting in the parking lot.
After Ortiz arrived at the designated location, Agosto and his brother, Burgos, began unloading items into the pickup truck, the affidavit said.
Police have recovered most of the stolen items, Ward said.
Ward praised his officers for going the extra mile and following up tips leading them to the makeshift store. He also said Philadelphia's Major Crimes Unit from the 25th District was helpful.
After a late afternoon news conference Friday, Ward and Detective Steve Reeves showed reporters crates full of items ranging from shampoo to antifreeze the suspected thieves were selling in Philadelphia.
The three men are charged with theft, conspiracy and receiving stolen property. They were each arraigned Thursday before District Judge Jan Vislosky. Agosto was released after posting 10 percent of his $75,000 bail; Burgos and Ortiz remain in Bucks County prison in lieu of 10 percent of $75,000 bail.
Ward said more arrests are pending, but it is unlikely customers who bought the stolen merchandise could be tracked down for buying the items.